1st Online Edinburgh Byzantine Book Festival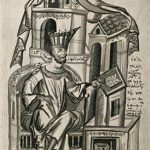 The Edinburgh Byzantine Book Festival is the first of its kind as a way to learn about recently published books on any area of Late Antique and Byzantine Studies (AD ca.300–ca.1500), including literature, history, archaeology, and material culture. The Festival is an online event, allowing attendees from all over the world to join in. The aim is to hold it every two years in order to promote a wider understanding and awareness of Byzantine scholarship in a spirit of collegiality. It is also intended to encourage future collaborations and networking among the various presenters and attendees, especially in these strange times of the coronavirus pandemic. Hopefully, it will also inspire similar events in other research fields in the future.
The 1st Online Edinburgh Byzantine Book Festival includes volumes published in 2019 and 2020, and forthcoming books with an estimated publication date no later than June 2021. It features monographs published in English, French, Georgian, German, Modern Greek, Italian, and Romanian.
Avec la participation de :
B. Caseau, O. Delouis, V. Déroche, F. Pacha Miran, B. Pitarakis, I. Rapti et C. Zuckerman.
– Pour en savoir plus : https://www.ed.ac.uk/history-classics-archaeology/news-events/events/1st-online-edinburgh-byzantine-book-festival